Betrayed by a Mole in the KGB, Now the CIA Suspects Him of Double-Crossing
(NewsUSA)
- He has been praised by some of the top thriller writers in the business. His work has been compared to that of John le Carré and Brad Thor.
"My mission," says author William Maz, "is to use fiction writing to ask some of the larger questions that interest people everywhere: how does the world function, what is the best way to spend our lives, why do people and countries do what they do, and, the ultimate question, is there something more than this life?"
Maz takes all those objectives to the pages, first in his debut hit THE BUCHAREST DOSSIER, in which CIA agent Bill Hefflin must stay one step ahead of assassins, find his lost love, track down billions hidden in the offshore accounts of Romania's tyrant, and unravel the secret surrounding a KGB mole.
The book, which has won numerous awards including the Chanticleer International Book Awards 2020 Grand Prize Winner in Global Thrillers, 2022 National Indie Excellence Award Winner for Thrillers and the 2022 American Fiction Award Winner for Mystery/Suspense, already has been optioned for a major motion picture by Cody Gifford (son of Kathy Lee and Frank Gifford) of Gifford Media Group.
Now, Bill Hefflin is back in Bucharest—immersed in a cauldron of spies and crooked politicians in his exciting follow-up spy thriller THE BUCHAREST LEGACY: The Rise of the Oligarchs (Oceanview Publishing).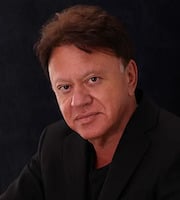 The CIA is rocked to its core when a KGB defector divulges that there is a KGB mole inside the Agency. They learn that the mole's handler is a KGB agent known as Boris. CIA analyst Hefflin recognizes that name—Boris is the code name of Hefflin's longtime KGB asset. If the defector is correct, Hefflin realizes Boris must be a triple agent, and his supposed mole has been passing false intel to Hefflin and the CIA. What's more, this makes Hefflin the prime suspect as the KGB mole inside the Agency.
Hefflin is given a chance to prove his innocence by returning to his city of birth, Bucharest, Romania, to find Boris and track down the identity of the mole. It's been three years since the bloody revolution, and what he finds is hordes of spies, corrupt politicians, and a country controlled by the underground and the new oligarchs, all of whom want to find Boris. But Hefflin has a secret that no one else knows—Boris has been dead for over a year.
Author William Maz has received high praise from some of the industry's masters.
"The Bucharest Legacy is a story of duplicity piled onto duplicity that will keep you guessing right to the end," says Steve Berry, New York Times best-selling author.
 "The Bucharest Dossier is an accomplished debut—a love story inside an espionage thriller inside a historical record, with all three elements working together to maximum effect. Very impressive and very recommended," says Lee Child, New York Times best-selling author.
New York Times bestselling author F. Paul Wilson calls The Bucharest Dossier "compulsively readable . . . a wrenching, action-packed story of love lost and regained."
To learn more about William Maz and his work, visit www.williammaz.com. To purchase THE BUCHAREST LEGACY, go to https://bit.ly/3m3xZf7.