Right Place, Right Time: Device Delivered by Medical Sales Representative Used in Procedure to Save Mentor's Life
(NewsUSA)

- It is estimated that every year more than 1 million patients undergo an embolization procedure — an interventional procedure to stop or intentionally reduce blood flow. When Scott Lynn started treatment for bowel cancer in 2017, the possibility of an embolization treatment was never on his radar. However, an unexpected turn of events happened after Scott began chemotherapy, leading him to require an embolization to stop internal bleeding and ultimately save his life.
"I had a cardiac reaction to chemotherapy; I had a heart attack," he explains.
To prevent further cardiac stress, Scott stopped chemotherapy and underwent a total colectomy surgery earlier than initially planned. Just a week after that surgery, Scott suffered a major complication—a massive internal bleed, which required embolization treatment.
A Life-Saving Coincidence
Little did Scott know that his story would become closely tied to someone he'd long known, David Cole, a medical device sales representative.
Scott worked for many years with David's father and became a mentor to David. In fact, shortly following Scott's surgery, the two had the chance to catch up at David's father's retirement party. David says that on his way home that evening, he felt an obligation to make a quick stop at Atrium Health Carolinas Medical Center, a local level one trauma center, to drop off a supply of the Concerto™ Detachable Coil System, used for peripheral embolization procedures.
The next day, Scott was rushed to the same Carolinas Medical Center, where he underwent a life-saving embolization procedure performed by Dr. Eric Wang, a vascular and interventional radiologist with Charlotte Radiology. Dr. Wang quickly removed nearly half a gallon of blood from Scott's abdomen and performed the procedure using the same coils David had dropped off less than 24 hours prior, saving Scott's life.
The Right Device at the Right Time
Dr. Wang explains that when treating a complex bleed, time is of the utmost importance to minimize the loss of blood. Scott later learned that had he waited just ten more minutes to call 911, his life could have been even more at risk.
Medtronic Concerto coils block the area of an active bleed and its thrombogenic fibers accelerate clot formation. While embolization is a critical— and often life-saving procedure— it requires the right device and the proper training for success. Fortunately, Dr. Wang was familiar with Concerto coils, as he often uses them in his medical practice.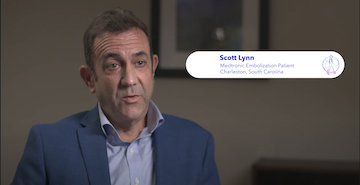 An Extraordinary Outcome
This full-circle story is largely due to a trifecta of fortunate events. Scott received the lifesaving care he needed because of his instinct to call 911 immediately. Just the day before, David had ensured that Carolinas Medical Center had Concerto coils on hand. And Dr. Wang trusted that those coils were the right choice to quickly stop Scott's bleed.
"I am eternally grateful that I was able get the embolization care I needed. I'm absolutely convinced that the shared knowledge of David and my physician on trauma procedures and how to stop active bleeds using these coils was instrumental in saving my life," said Scott.
Embolization can be used for a variety of procedures that aim to stop blood flow— both elective procedures and emergent instances of bleeding, such as internal bleeds associated with surgery.
Patients should talk to their doctor about risks associated with the Concerto Detachable Coil System. The Concerto™ detachable coil system is indicated for arterial and venous embolizations in the peripheral vasculature. Potential complications include, but are not limited to puncture site hematoma, thromboembolic episodes, vessel perforation, neurological deficits including stroke and death, vasospasms, vascular thrombosis, hemorrhage, and ischemia.
Learn about Peripheral Vascular Health at Medtronic at Medtronic.com/PVH