Twin Sisters at the Core of Dark Coming-of-Age Psycho Thriller By Debut Author
(NewsUSA)

- Most good thriller novels keep readers guessing until the end. Then there are some that cause jaws to drop.
TKO Rogue has launched debut author Janet Porter's intriguing, intricate and gory psychological thriller FREE RIDER, a dark coming-of-age story set in 1970s New York City that follows twin sisters as corruption, decadence, and greed engulf any vestiges of innocence, trust, and security they may have left. 
Khalika and Violet, twin girls growing up in a privileged hell, are on the cusp of adulthood after barely surviving a childhood that threatened to shred their psyches before devouring them both in a seismic swirl of pure evil.
Violet and Khalika have grown up in a posh Westchester, NY, estate previously owned by the girls' parents but later the domain of their stepparents Dick and Bianca. That is, until the stepparents are found brutally murdered. The stepparents' murders are not the only ones that remain unsolved, and there are signs that point to one killer.
It takes several months, but Detective Mark Vincente follows the investigation and eventually locates Violet, whom he wants to question. Vincente is a subtle but dogged investigator, describing his work as "trying to put a puzzle together where the pieces have been scattered like gory confetti." Eventually, he and Violet develop a romantic interest. Is it real or is it his way to get closer to his ultimate quest?
For fans of gore, horror and "the dark side," FREE RIDER has it all. But Porter's work is much more than that. It is a complex psychological study of two sisters, their slightly different paths, their inner thoughts and their resultant actions. The author does a marvelous job of getting into their heads and souls.
And what an ending – it will leave readers stunned!
Praise is already pouring in for FREE RIDER:
"Thought-provoking and atmospheric!" says one Amazon reviewer.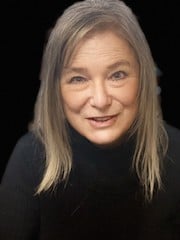 "Captures the darkness and grittiness of New York City in the Seventies and Eighties," says another.
"Astute observations on the evil that human beings perpetrate," says another reviewer.
The author, Janet Porter, was born in Pittsburgh and immediately began trying to injure herself by roller skating over broken pavement. Subsequently, the family moved to New York City, where the family lived in a series of ramshackle apartments in the borough of Queens. Janet has no writing credentials except those of anybody who has processed the daily grind and decided to fictionalize it. She lives by the words, "Write the book you want to read."
In writing Free Rider, Porter said she keeps in mind the words of the dead guy in the movie "Ghost," doomed to ride the subway for eternity after jumping in front of a train: "You take all your emotions, all your pain, all your love, all your passion, all your rage. Just push it all the way down into the pit of your stomach. And then let it explode, like a reactor! Pow!"
"Pow" is right. Pick up Free Rider and you'll know what we mean.
Purchase at https://bit.ly/3uxbKil.